Here is my new gaita: a great reproduction of an old model made by Antonio Castro from Vilariño (Sobrado dos Monxes, A Coruña) circa 1920. This is a "Gaita de Galleto", because the Galleto was the name employed for the common stock for the tenor drone (ronqueta) and the soprano double-reed drone (grileiro or chillón). It´s made by Pablo Carpintero a full-time investigator about Galician musical instruments. He has measured a lot of old Galician Gaitas and now he can make the old instruments that you want. I will talk about the characteristics of this gaita and about another things: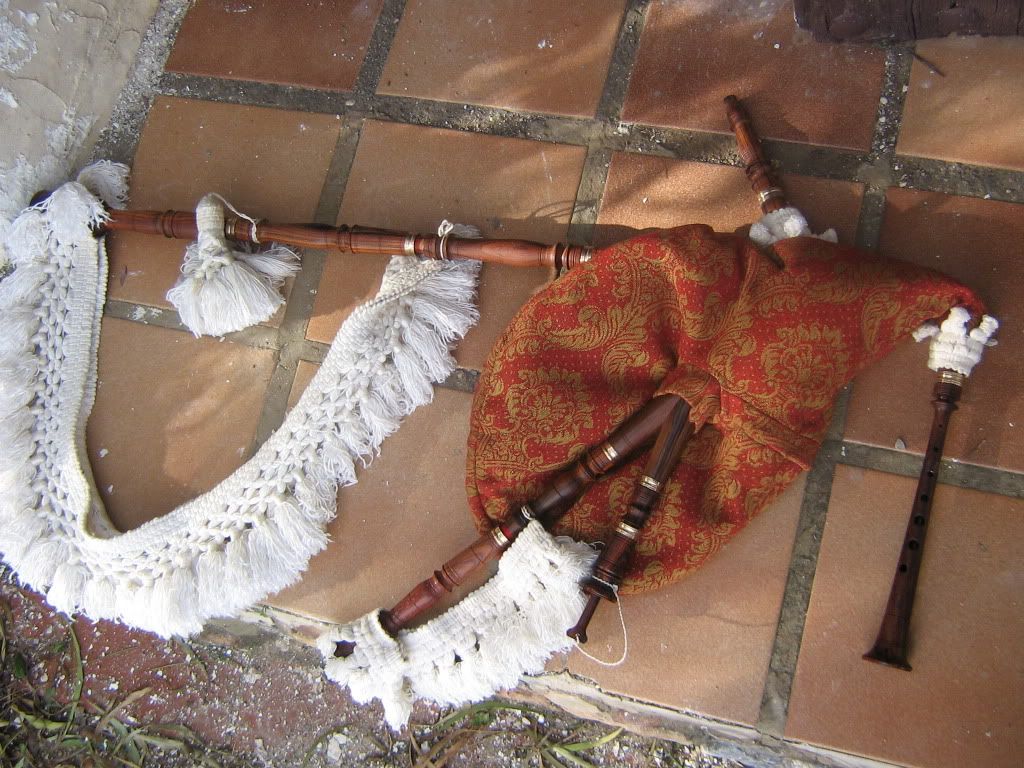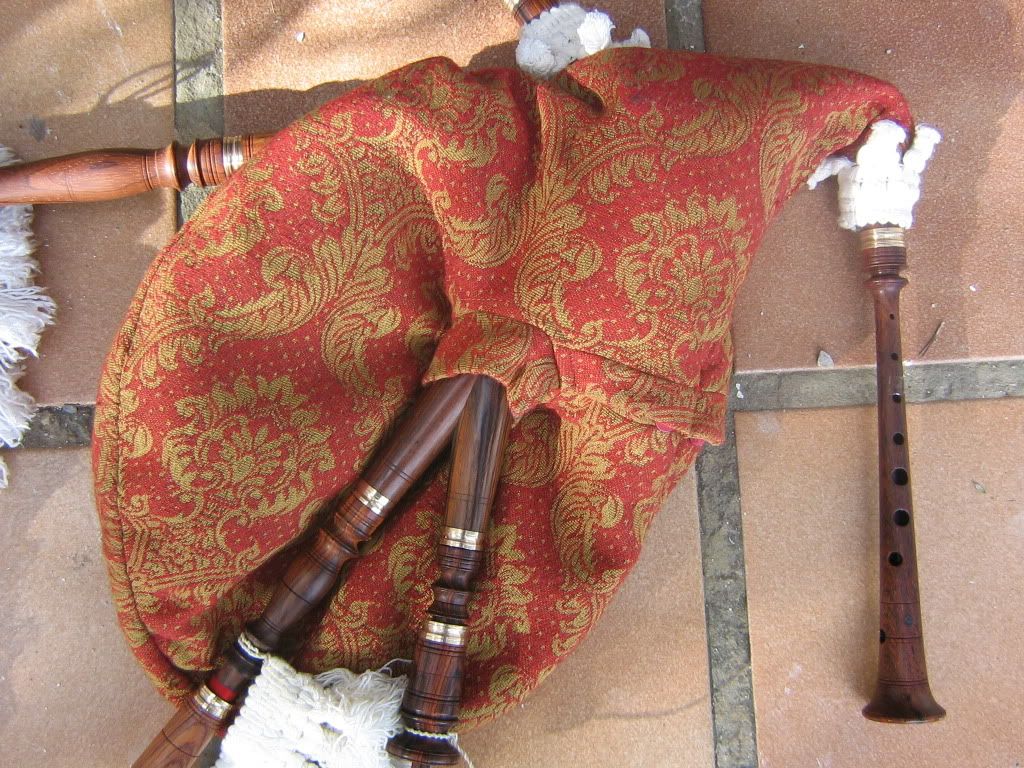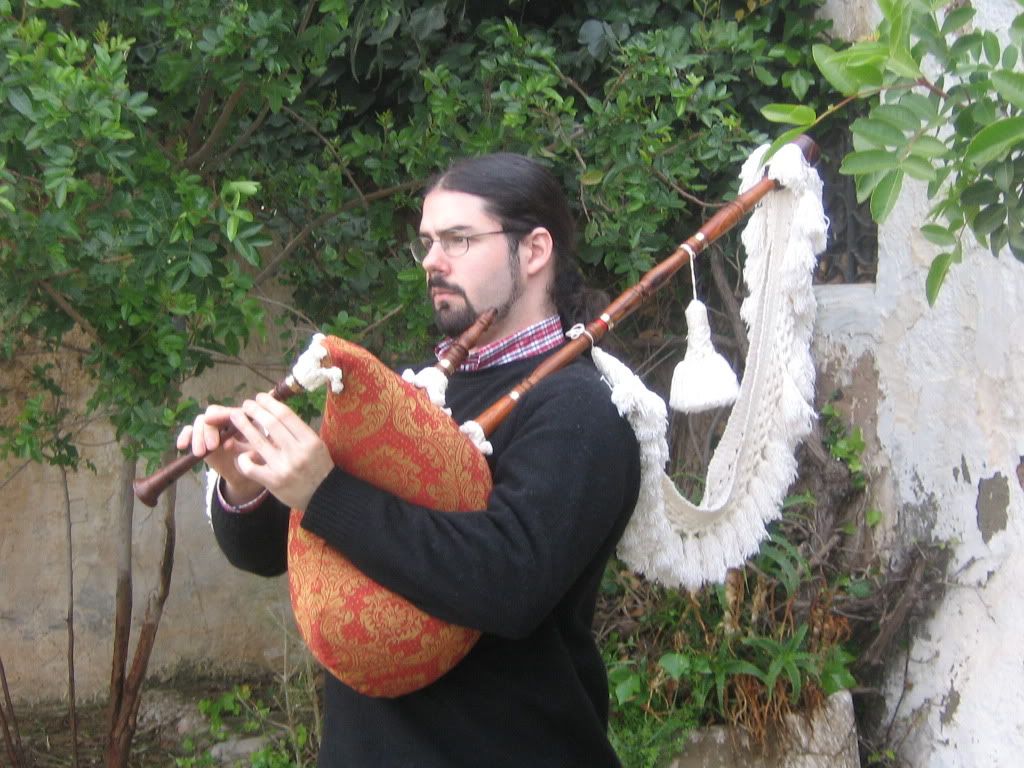 This gaita it´s made in cocobolo (the original was made in boxwood but I prefer cocobolo because boxwood always get curved) with brass rings. The tonic is in D#, a really brilliant tone, and it has a very particular scale that differs from the modern chanters. Also the sound is powerfull and louder, and it´s produced by an old-style reed, an exact copy from the reeds of the zone, that were made without metal bridle.
All drones are with cane reeds, and the little drone is a traditional Grileiro with double reed. When you have the four voiced tuned, the sound it´s incredible. I
have heard the original gaita in the CD of Pablo Carpintero, and I was fall in love with it, so when Pablo started to make instruments, my election was so easy. The fabric of the bag cover it´s from 1850, so the antique-aesthetic is present.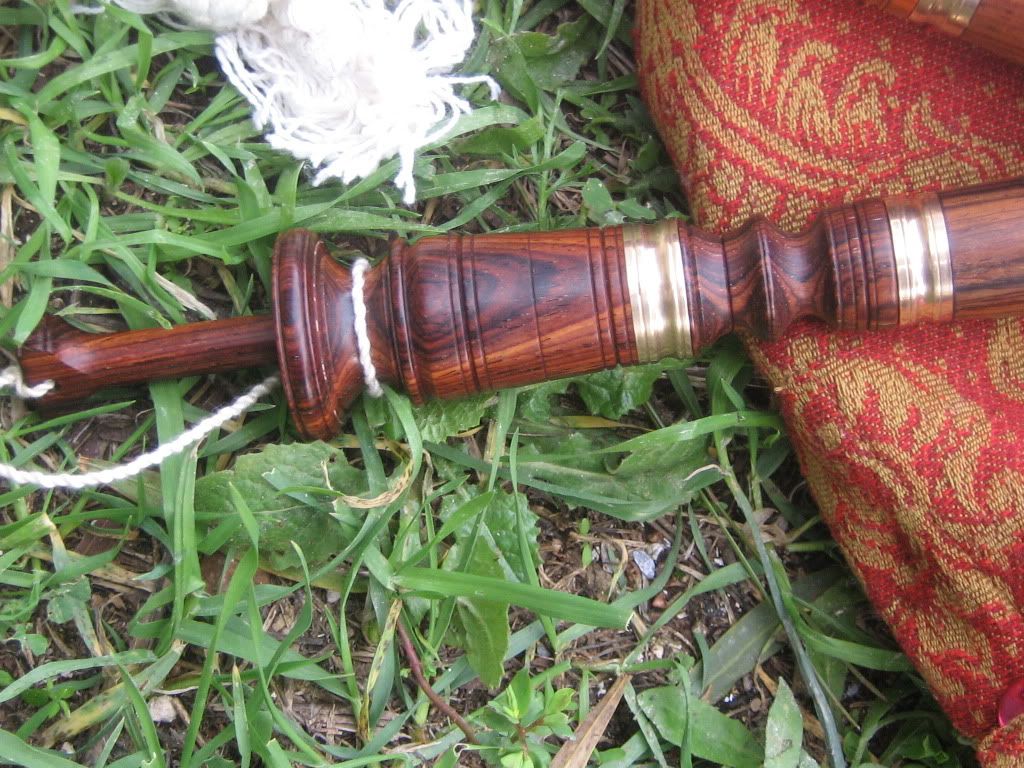 The gaita has come with a very nice wooden briefcase, very traditional. Into the briefcase you can find all materials for make your own reeds, following the reed type of the zone. You have a plastic case with wax, thread, cane for drone and chanter reeds, metal tudel, a wooden piece for cut the reeds,etc… Also you have a nice boxwood knife for work and cut the reeds with a leather cover, the book "O BERCE DAS PALLETAS" where you can learn how to make reeds, another book where is specified the name of the original maker, the fingering, the scale, the interpretative possibilities, the date of the reproduction of the bagpipe…BUT ALSO YOU HAVE some cds with the music and oral information about the piper who has the original bagpipe in the past, so you can learn the songs of the zone of this bagpipe. And you can get it all against 1200 euros. Can you get more with less??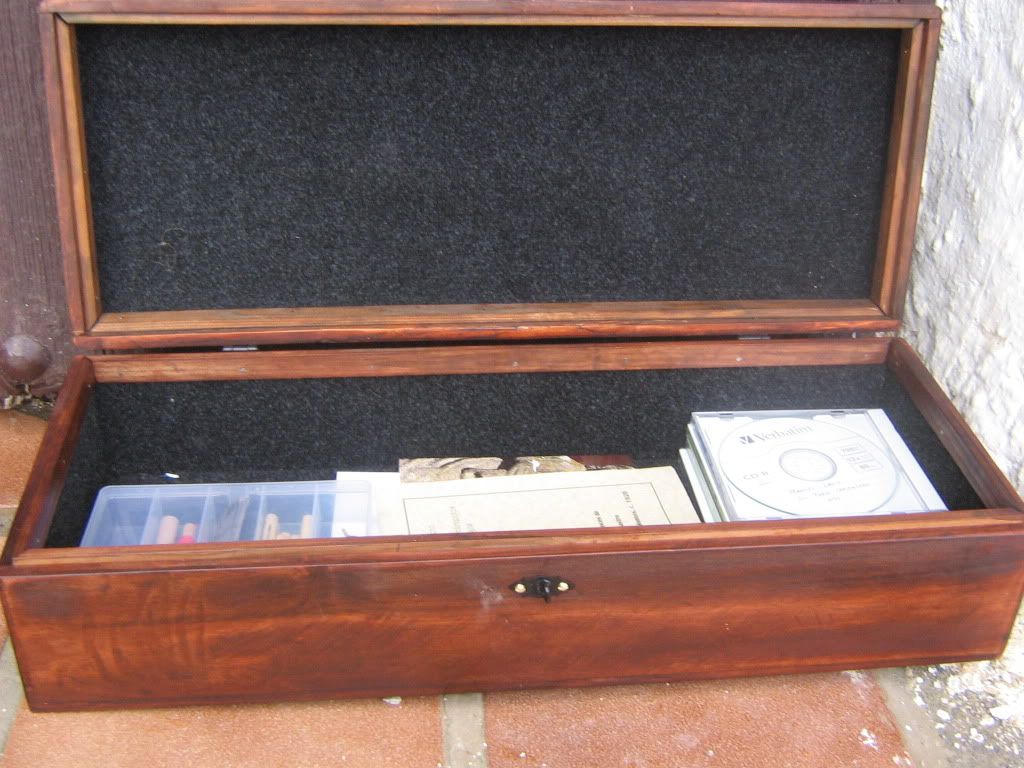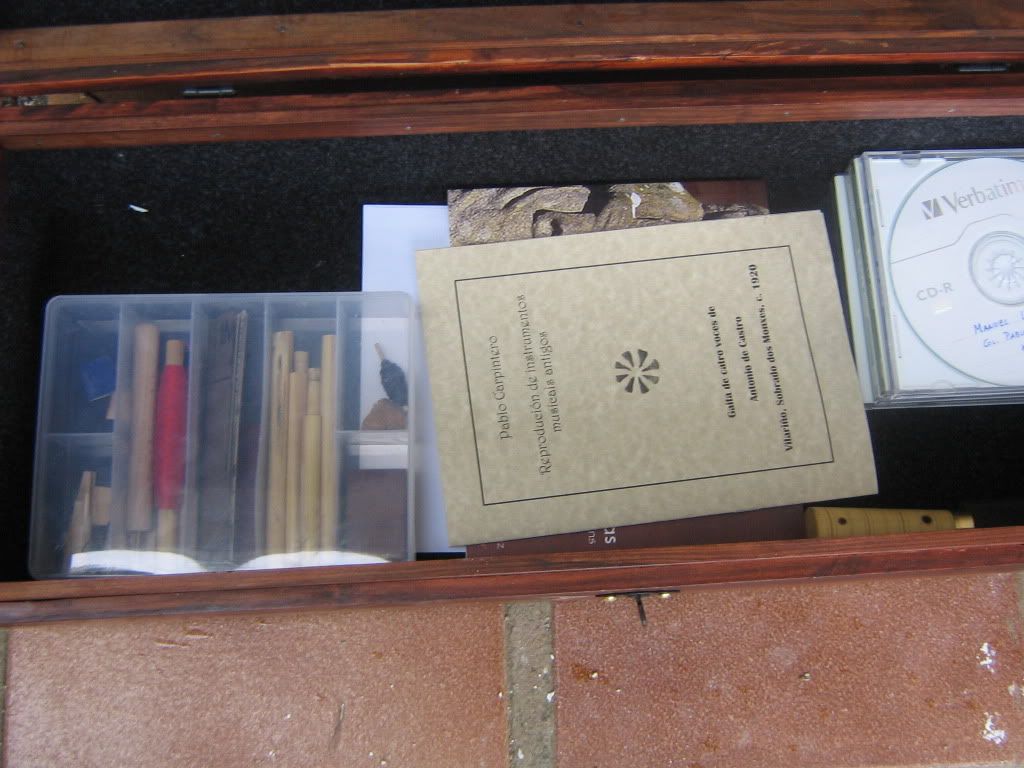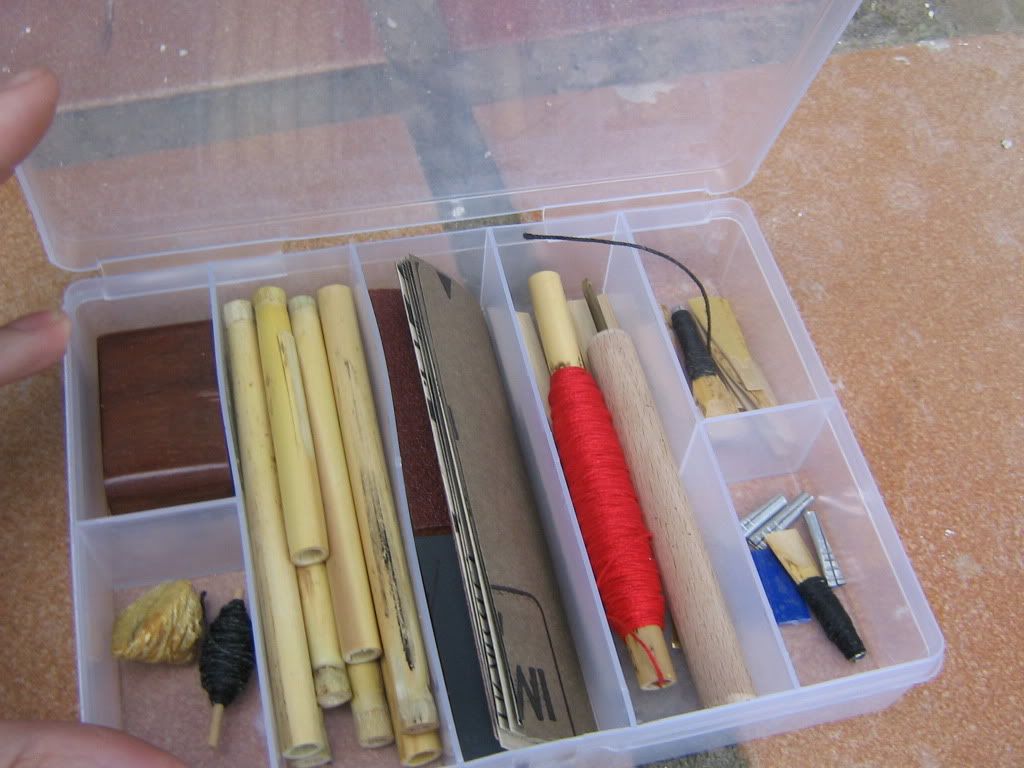 I really like this initiative, because it´s a new thing between the Galician makers. You get a musical instrument, but ALSO you get the information and materials for continue the tradition. I recommend Pablo Carpintero as a maker, I´m really happy with the result. Here I post some photos of my Gaita, and another of a Gaita from Mondoñedo he has finished now. If you want anything, you can conctact with him at :
pablo.carpin@gmail.com